Cryo LNG
Purification and liquefaction of biomethane or natural gas from 500 Nm3/h to several tens of thousands of Nm3/h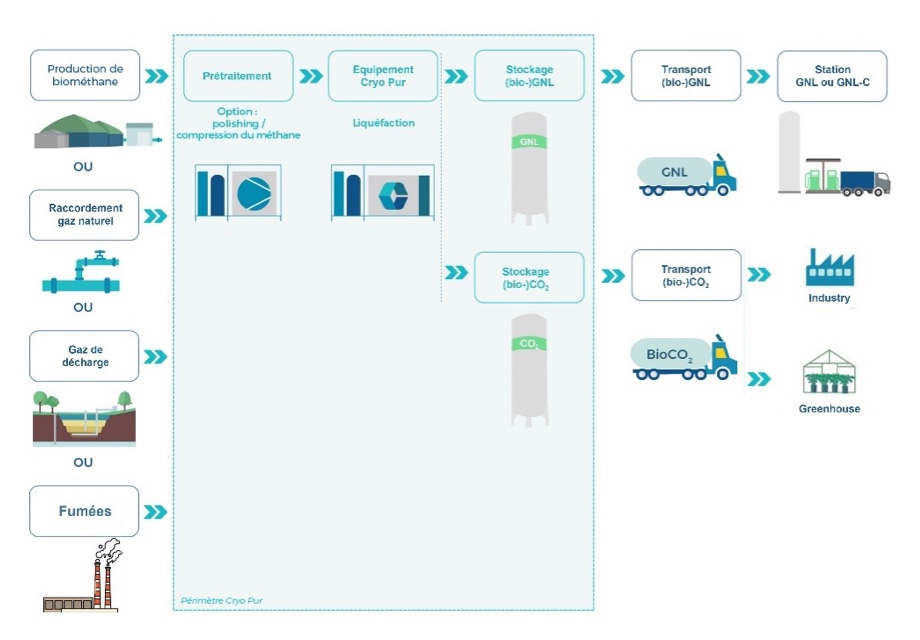 In order to be used as a fuel by long-haul trucks, methane must be delivered in liquid form at low pressure and very low temperature. The Cryo LNG solution enables to liquefy upgraded biomethane, grid gas or boil-off-gas with optimum efficiency for a range of micro-scale flowrates.
Features
LNG @ 2 bar / -160°C

2 to 50 tons per day LNG

Option: polishing to reach CO2 < 50 ppm

CH4 recovery rate 100%

Electrical consumption: 0,8 kWe/kg LNG

Easy installation & operation

Adapted to various flow rates and composition
Cryo Flare
Production of LNG as an alternative to flaring gas at oil production sites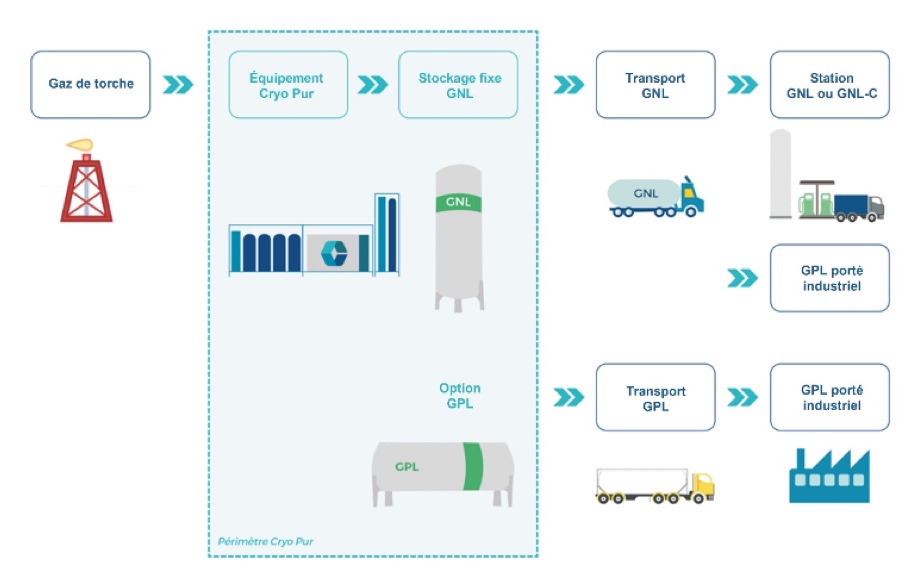 Adapted to the recovery of associated gas at small-scale oil wells, the Cryo Flare solution enables to eliminate flare gas and to create extra revenues by producing LNG (and LPG) which can be easily transported and sold to remote markets. It is an environment-friendly alternative to routine flaring of small gas quantities.
Features
LNG @ 2 bar / -160°C or 15 bar / -120°C

500 – 5000 Nm3/h flare gas (0.5 – 5 MMSCFD)

Recovery of Natural Gas Liquids – Option: LPG production

Option: Required electricity generated on-site (micro-turbine)

Easy installation & operation

High flexibility to flow and composition variations
First Farm Scale Bio-LNG Plant in the World

Since a successful start in January 2018, the first commercial Cryo Pur unit has been continuously producing bio-LNG at the Greenville Energy site in Northern Ireland.
This confirms the success of the first plant in the world producing liquid biomethane on a farm. With a capacity of 3 tons per day of LNG (300 Nm3/h of raw biogas), the plant provides local industries with storable renewable energy coming from organic waste. In addition to its efficiency in producing bio-LNG even at small scale, the Cryo Pur technology also enables the production of liquid bio-CO2, which can be sold as industrial gas and thus increase the project's profitability.
Site :
Omagh, Northern Ireland (UK)
Flow rate :
300 Nm3/h raw biogas
3t LNG / 5t CO2
Feedstock :
Agricultural waste
Start date :
January 2018
First industrial plant in Scandinavia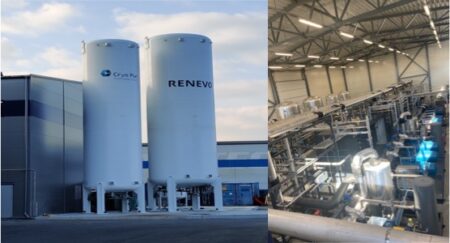 Norway's market for liquefied biomethane (bio-LNG) is expanding, driven by a combination of government support and demand from the private sector. Bio-LNG produced from organic waste offers a renewable solution for fueling heavy transport such as busses, trucks and ships, and several Norwegian transport companies have committed to purchasing more bio-LNG in the future.
The plant will be able to produce up to 8 tons per day of fuel-grade bio-LNG and 10 tons per day of liquid CO2, with enough flexibility to follow a phased ramp-up and to feed gaseous biomethane into Renevo's gas grid. Cryo Pur will also deliver the storage and transfer units for the cryogenic products.
The inauguration was held in May 2022 in the presence of the Norwegian Prime Minister.
Site :
Stord, Norway
Flow rate :
700 Nm3/h raw biogas
8t LNG /  10t CO2
Feedstock :
Salmon Farming Waste
Start date :
May 2022