Cryo Pur technology results from 15 years of R&D led by Denis Clodic and its team from Mines ParisTech in the field of cryogenic CO2 capture.
Technological innovation is at the heart of Cryo Pur: protected by 8 worldwide patents, Cryo Pur technology offers concrete solutions to the issues surrounding biogas, employing cutting-edge processes to push the limits of energy efficiency.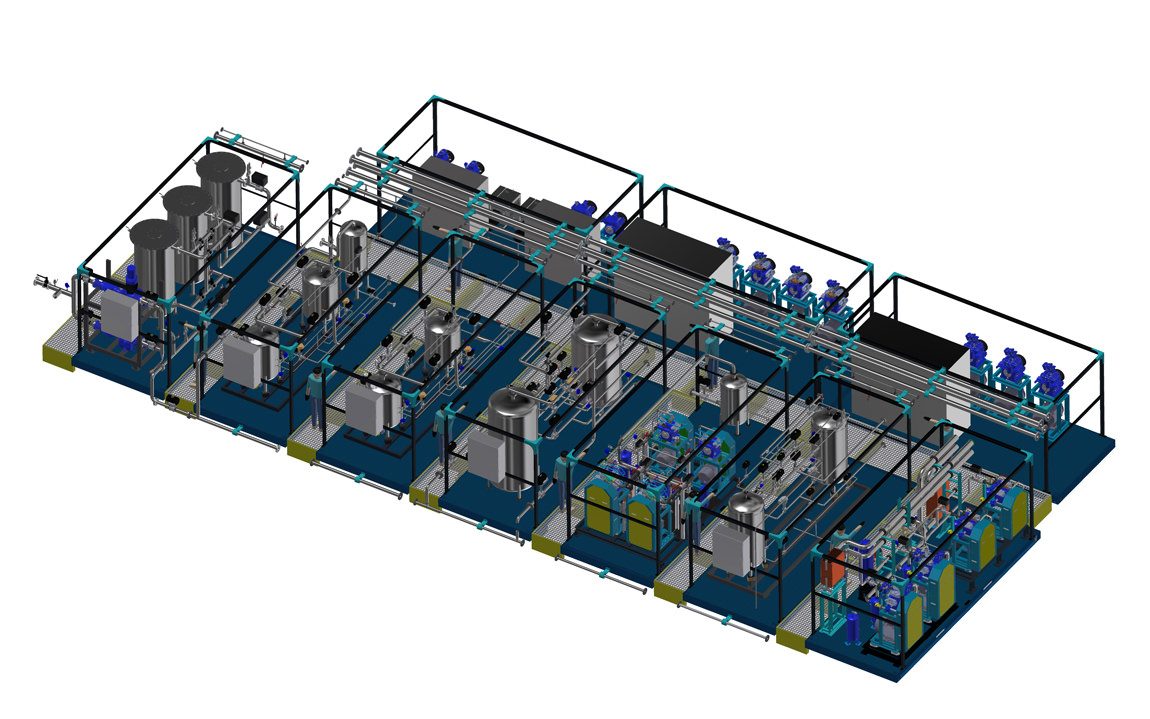 A ground-breaking technology
Transforming biogas into bio-LNG and liquid bio-CO2.
Cryo Pur designs, manufactures, commercializes and services a range of equipment for cryogenic biogas upgrading, biomethane liquefaction and bio-CO2 liquefaction.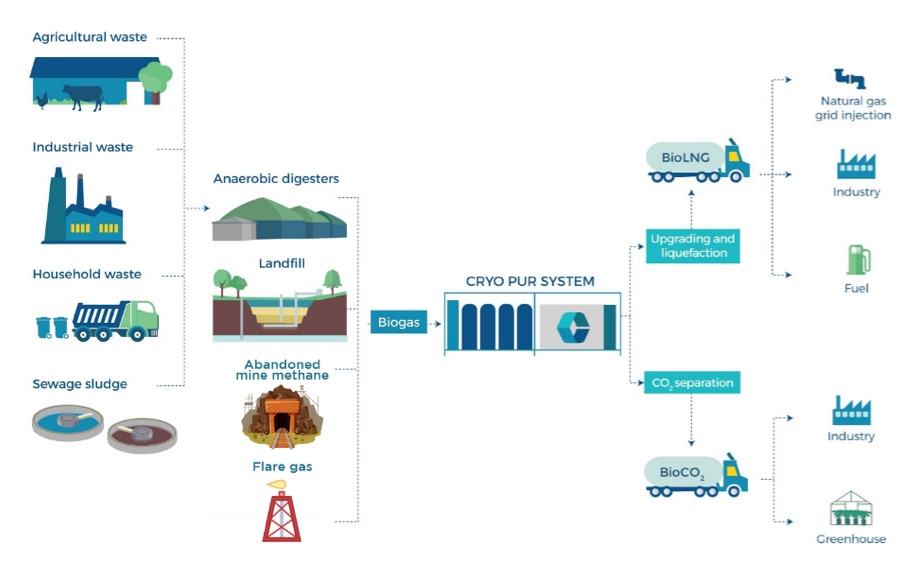 The Cryo Pur system is adapted to treat biogas produced from any type of organic waste:
agricultural waste,
industrial waste,
waste water sludge,
household waste
The Cryo Pur technology opens new opportunities for the biogas sector:
production of fuel for heavy goods vehicles (bio-LNG),
production of biomethane from landfill gas,
remote injection/combustion of biomethane,
production of liquid bio-CO2.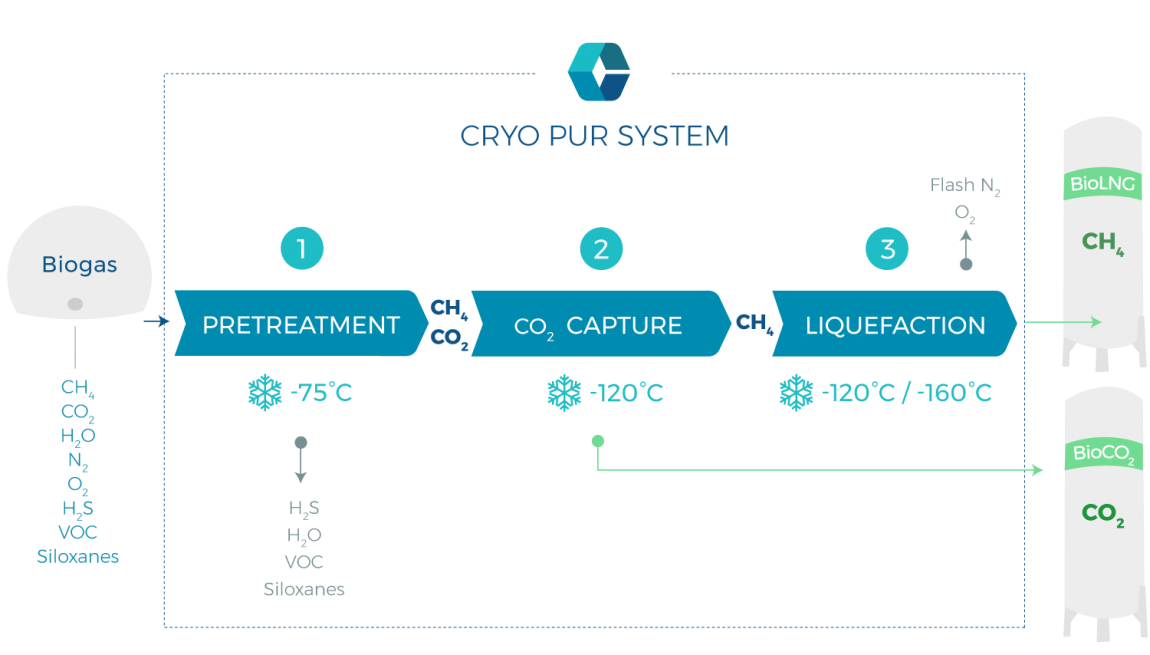 1
Pretreatment : H2S, water and pollutant removal
• Incoming biogas is first treated with activated carbon filters to remove hydrogen sulfide (H2S).
• Biogas is then cooled to -40°C for a first dehumidification step by alternately frosting and defrosting water on two heat exchangers; Volatile Organic Compounds and siloxanes are removed together with water.
• Biogas is then cooled to -75°C for a second, similar step of dehumidification and pollutant removal.
2
CO2 capture : separation and liquefaction of CO2
The dry, pre-treated biogas is cooled to -120 °C, so that CO2 is captured through alternate frosting and defrosting on two heat exchangers, which ensures that biomethane reaches the required purity for liquefaction. During this step, pure CO2 is recovered in liquid form, in order to be directly usable as a product.
3
Liquefaction of biomethane
Biomethane is then compressed to 15 bar and liquefied at -120°C. The bio-LNG product is finally stored in a cryogenic vessel. If needed, a boil-off and re-liquefaction loop allows to produce bio-LNG at 2 bar and -160°C.
Integrating these different steps into one system allows to:
• reach a minimal electricity consumption for the complete process,
• avoid risks associated with interfacing different technologies
Recovery rate
The Cryo Pur process ensures a maximum recovery rate when transforming raw biogas into biomethane: there is no loss of biomethane in the process.
For landfill gases (LFG) with high nitrogen and oxygen content, the loss of biomethane is only 1%.
Reliability
Thanks to a robust design and to an entirely automated operation, Cryo Pur units reach a yearly availability above 95%.
Power consumption
The electrical energy consumption is minimum, thanks to combining cryogenic upgrading and liquefaction, which leverages synergies in the production of low temperatures.
Biomethane purity
Liquid biomethane produced by the Cryo Pur system is more than 99% pure; it complies with Vehicle Gas standards and meets the requirements for LNG logistics as well as for injection into the natural gas grid.
Liquid bio-CO2 purity
With a purity of over 99.9%, the liquid biomethane produced by the Cryo Pur system complies with the requirements of the European Industrial Gases Association (EIGA).
Heat recovery
The Cryo Pur process enables to recover a significant quantity of heat from the refrigeration systems, enough to cover entirely the heating needs of the digesters which produce the biogas upstream.
Flexibility
Cryo Pur units can treat between -50% and +20% of the nominal biogas flow rate while maintaining their performance.
Service
In order to guarantee the performance of its equipment over time, Cryo Pur operates and maintains its units with performance guarantees and full service maintenance contracts.