A revolutionary and patented technology
Transforming biogas into bio-GNL and liquid bio-CO2.
Cryo Pur designs, manufactures, markets and operates a range of equipment that integrates biogas purification by cryogenics and biomethane and bio-CO2 liquefaction.
Cryo Pur technology is the result of 15 years of research and development work by Denis Clodic and his team at Mines ParisTech in the field of cryogenic CO2 capture. Technological innovation is at the heart of Cryo Pur's project: protected by 8 worldwide patents, Cryo Pur's technology provides practical answers to the challenges of the biogas industry and pushes back the limits of energy efficiency thanks to a state-of-the-art process.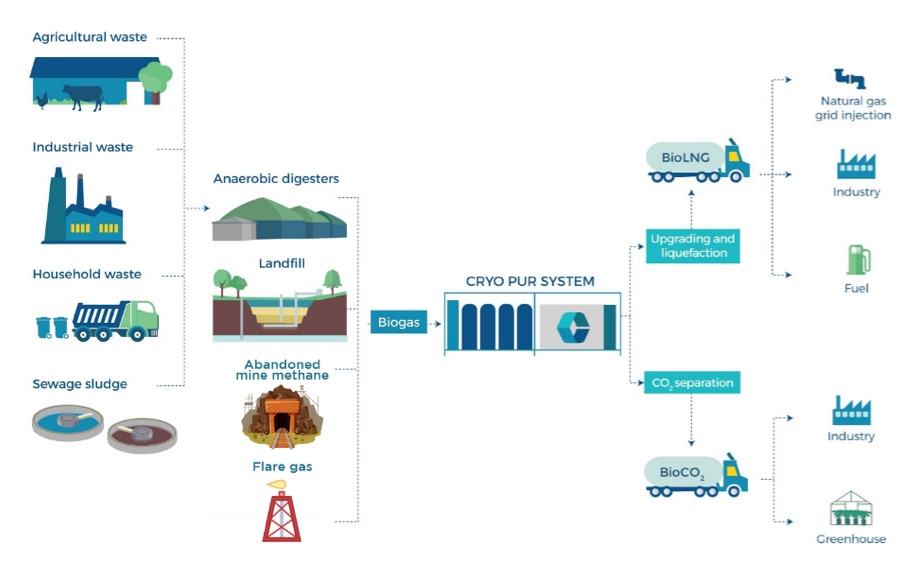 The Cryo Pur technology allows the treatment of biogas from all types of organic waste:
agricultural waste,
industrial waste,
sewage sludge,
landfill waste.
The Cryo Pur technology opens up new opportunities for the biogas industry such as:
the production of fuel for trucks (bio-GNL),
the production of biomethane from landfill gas,
the injection of gas,
production of liquid bio-CO2.
Our vision
Cryo Pur provides an innovative response to three major challenges facing our societies: climate change, air pollution and energy dependency.
Producing a renewable energy that can be substituted for diesel
Biomethane and bio-GNL are renewable energies derived from organic waste and reduce greenhouse gas emissions by over 80% compared to diesel. Their use is key in the energy transition to a low-carbon mix.
Developing a local circular economy
Cryo Pur opens the way to many waste-to-energy projects, allowing farmers, communities and companies to produce their own energy from their organic residues, and concretely participates in the development of a local circular economy, through the construction of new energy infrastructures, decarbonized and decentralized.
In addition to bio-GNL, the Cryo Pur technology produces a very high purity liquid bio-CO2, which allows its sale for many applications (dry ice, greenhouses, refrigerated transport,…), thus improving the economic and environmental balance of the project.