2020
2-year milestone for Greenville's bio-LNG operations following a record ramp-up performance.
2019
Design of two 700 Nm3/h units for projects in Norway and France.
2018
Commissioning of the first commercial unit, the world's first bio-LNG production facility on a farm, at Greenville Energy's site in the United Kingdom.
2017
Cryo Pur raises € 6 million from Xerys funds.
2016
• Cryo Pur and partners of the BioGNVal project win the "Stratégies Logistiques" Sustainable Innovation Prize.
• Cryo Pur signs its first commercial contract in the United Kingdom.
• Official grand opening of the BioGNVal project.
• Cryo Pur wins the « Biogaz d'Argent » award at Biogaz Europe.
2015
• Cryo Pur is named FrenchTech Ambassador for the COP 21.
• Cryo Pur wins the Innovation award at ExpoBiogaz.
• Installation and start-up of the industrial demonstrator.
• Creation of Cryo Pur company.
2014
Design and assembly of the demonstration plant (1 TPD bio-LNG, 1.6 TPD CO2).
2013
Cryo Pur is selected for the BioGNVAL project as part of the ADEME's Investments for the Future.
2006
Denis Clodic and its team from Mines ParisTech develop a demonstrator for cryogenic CO2 capture on an industrial scale (1 TPD CO2).
2003
Denis Clodic and its team from Mines ParisTech develop the first laboratory pilot for cryogenic CO2 capture (5 kg/h CO2).
2001
Denis Clodic files the first patent on cryogenic CO2 capture.
Cryo Pur founder: Dr. Denis Clodic
Experience
2015 : CEO and R&D Director of Cryo Pur.
2011 : CEO and R&D Director of EREIE, a start-up specializing in innovative technologies applied to the field of energy efficiency.
1993 : Director of the Center for Energy and Processes at MINES ParisTech University.
Titles
Member of the French Academy of Technologies since 2010
Co-winner of the Nobel Peace Prize 2007 for his work with IPCC (Intergovernmental Panel on Climate Change).
Member of the Technical Committee for the United Nations Environmental Program from 1992 to 2014.
PhD in Energetics at MINES ParisTech.
Engineer of the Conservatoire National des Arts et Métiers.
Cryo Pur gathers an international team of engineers, researchers and technicians, combining scientific excellence with robust industrial know-how, able to offer high value-added technical solutions to its customers.
The team of 24 persons includes:
Commercial partners : SUEZ, FAST Renewables
Academic partners : Mines ParisTech, CNAM
Institutional partners : ADEME, Club Biogaz, AFGNV, France Biométhane, SER, CIB
Financial partners : XERYS, BPI France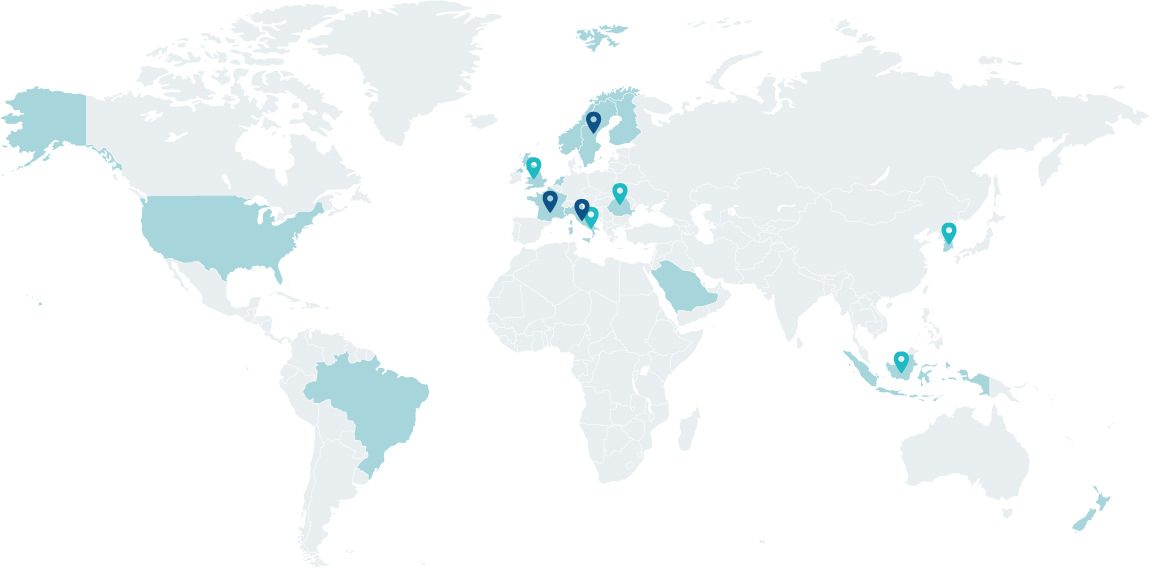 Cryo Pur Business Developer
Cryo Pur Agent
Projects
Commercial representation
Cryo Pur Business Developer:
• France
• Italy
• Sweden, Norway, Finland, Danmark
Cryo Pur Agent :
• United-Kingdom, Ireland
• Italy
• Romania, Hungary, Bulgary, Czech Republic
• South Korea
• Indonesia, Malaysia
Projects (ongoing or in study phase):
France
United-Kingdom
Italy
Sweden
Norway
Finland
Netherlands
Romania
United-States
Brazil
New Zealand
South Korea
Indonesia
Saudi Arabia